What Did The Tuskegee Airmen Do After WWII?
Reading Time:
4
minutes
Who were the Tuskegee Airmen?
The Tuskegee Airmen were devoted, ambitious young men who volunteered to become the first Black military airmen in the United States of America.1
How did the Tuskegee Airmen get their start?
In the late 1930s, President Franklin D. Roosevelt and his administration debated U.S. involvement in the war in Europe.2 In a preemptive move, Roosevelt's "administration began a pilot training program in 1938 to create a reserve of trained civilian fliers in case of a national emergency."
Around the same time, African American leaders believed that blacks should share the burden of defending their country with whites.3
Tuskegee Institute, a prestigious Black university founded by Booker T. Washington, agreed to become a training center for Black military pilots.4
The 99th Pursuit (later Fighter) Squadron was formed in March 1941.5
The program used Stearman PT-13, PT-17 Kaydets, and Fairchild PT-19A Cornell as their primary training aircraft (featured below).
The first five USAAF fighter pilots graduated from Tuskegee on March 7, 1942; more soon followed.5
For the 99th Pursuit Squadron's first mission, they were deployed to North Africa in the spring of 1943. On this mission, the squadron flew Curtis P-40 Warhawks.6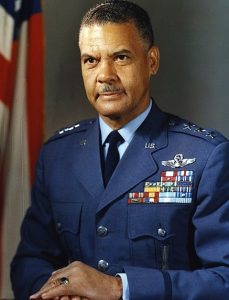 Benjamin O. Davis Jr.
Before joining the Tuskegee Institute, Benjamin O. Davis Jr. became a second lieutenant in the infantry and was assigned to the 24th Regiment at Fort Benning, Georgia.7 His father, Brig. Gen. Davis Sr., helped convince President Franklin Roosevelt to create an all-Black unit in the Army Air Forces.
Davis was among the first to graduate from the program and was promoted to lieutenant colonel; he led the 99th Fighter Squadron. In October of 1943, he took command of the 332d Fighter Group.
Davis played an important role in defending the Tuskegee Airmen against discrimination and racism. White officers doubted the airmen's combat abilities. Davis was brought in to be questioned by congress. He boldly delivered substantive evidence that his men provided valuable and courageous service in battle.
After WWII, Davis served the Pentagon, was later put in charge of a fighter wing in South Korea, and was promoted to brigadier general, making him the first Black general in the Air Force. Davis retired after serving as deputy commander in chief of U.S. Strike Command in 1970.
After retirement, Davis, "became director of public safety in Cleveland, Ohio, director for Civil Aviation Security, and even served as an assistant secretary in the U.S. Department of Transportation under President Ronald Reagan."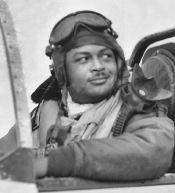 George Spencer "Spanky" Roberts
George S. Roberts was also among the first five pilots who graduated from Tuskegee Institute.8 He married his wife Edith the day he graduated.9
After World War II, Roberts assisted in the Korean War and the Vietnam War.
Retiring from the military in 1968 with the rank of colonel, Roberts started working at Wells Fargo in Sacramento, California. He served as a credit officer, training officer, and personal banking officer before retiring in 1982. Roberts died in 1984 at the age of 65.
"[Roberts] awards include the Distinguished Flying Cross, an Air Medal, seven commendation medals, two Presidential unit citations. In addition, he was named honored pioneer at the "Black Wings" exhibition at the National Air and Space Museum in 1982."

Source: West Virginia Department of Transportation
Learn more about Pacmin Studios custom display models or contact us for a custom model quote.
By Joshua Knopf
Joshua Knopf is a Production Expeditor at Pacmin Studios. In addition to mixing and matching colors for silkscreen printed decals, Josh writes creative content for our newsletters.
References
Subscribe to our newsletter for more Pacmin content.