Aircraft Manufacturers Answer the Call to Reduce Carbon Emissions. Boeing Prepares 777-200ER SAF ecoDemonstrator for Flight Tests
Reading Time:
4
minutes
Aircraft manufacturers and airlines worldwide are answering the call to reduce carbon emissions and increase fuel efficiency. In this article, we'll look at some of Boeing's initiatives in their ecoDemonstrator program.
From 2012 through 2022, Boeing's ecoDemonstrator program has tested over 230 technologies across nine airplanes. Of these 230 technologies, about one-third have been implemented in flying aircraft to make aerospace travel and transport safer and more sustainable.1
Past ecoDemonstrator models:
2012: an American Airlines Boeing 737-800
2014: a Boeing 787-8 Dreamliner
2015: a TUI Boeing 757
2016: an Embraer E170
2018: a FedEx Boeing 777F freighter
2019 a Boeing 777-200
2020: an Etihad Airways Boeing 787-10 Dreamliner
2021: an Alaska Airlines Boeing 737-92
10th Anniversary of the ecoDemonstrator Program
To mark the 10th anniversary of the ecoDemonstrator program, Boeing unveiled a new Demonstrator—a 777-200ER—which will serve as a testbed for around 30 new technologies.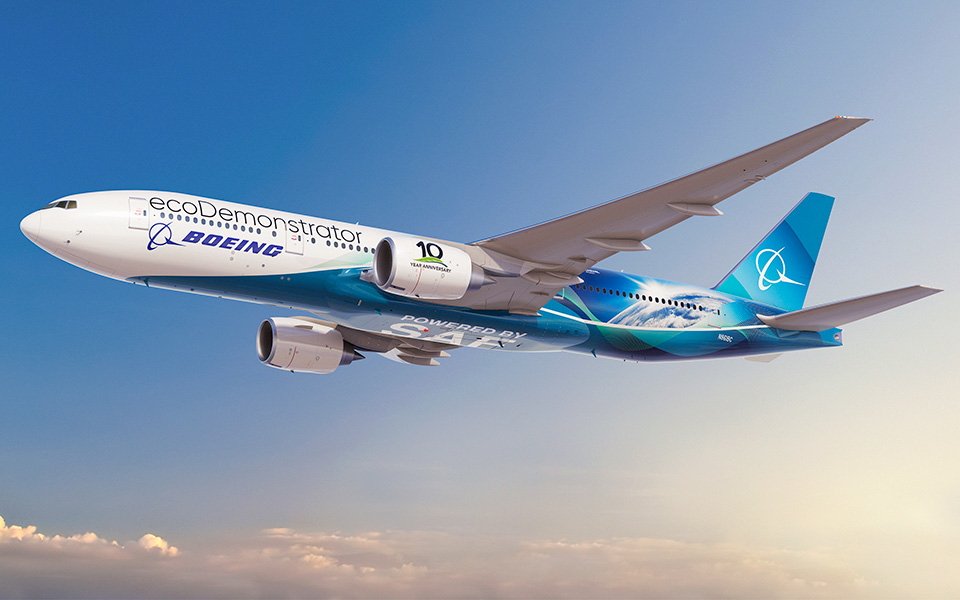 2022 ecoDemonstrator Technologies
A few of the planned projects for the ecoDemonstrator include:
Additively manufactured airplane and engine parts. These 3D-printed parts will be lighter than those created with traditional methods. They will also make less waste than other conventional manufacturing processes. The 2022 demonstrator will test an auxiliary power unit (APU) exhaust duct support panel and an engine bracket. The Boeing Additive Manufacturing Innovation Center is responsible for developing these parts.
SMART vortex generators. In collaboration with NASA, Boeing will continue work on their SMART vortex generators—small vertical vanes on the wing that increase aerodynamic efficiency during takeoff and landing. Boeing and NASA will incorporate shape memory alloys to enable the detraction of the generators into the wing. This will decrease drag, and consequently, fuel consumption and carbon emissions.
Additions to Universal Avionics head worn heads-up display (HUD) and advanced vision system (EVS) camera. The HUD places vital information in a pilot's line of sight while the EVS enhances vision in low-visibility conditions. Another added benefit of the device is reduced weight from display consolidation.
A water conservation system. The new system will conserve water by recycling water from handwashing to reuse for flushing the lavatories. Boeing is in collaboration with Diehl Aviation for this system. This addition could save more than 400 lbs. (181 kg.) of weight per flight.
A new fire suppression agent to replace Halon 1301. Although Halon 1301 has been the standard agent for extinguishing airplane fires, regulations require that it be discontinued due to its ozone-depleting properties. Boeing is developing an alternative in partnership with Meggitt.
Environmentally-preferred refrigerant. In partnership with Collins Aerospace, Boeing will test a new air chiller that uses an environmentally-preferred refrigerant.3
Sustainable Aviation Fuel (SAF)
The ecoDemonstrator flies using the highest approved blend of sustainable aviation fuel (SAF). The hope is that SAF will eventually replace conventional jet fuel to reduce carbon emissions significantly. Several resources and waste can be repurposed as SAF such as corn grain, algae, agricultural residues, and wood mill waste.4 Boeing is committed to certifying all commercial planes for 100% sustainable aviation fuel by 2030.
The Net-Zero Coalition
In 2015, 196 countries, including the United States of America, adopted the Paris Agreement and committed to making changes to reduce greenhouse gas emissions to as close to zero as possible.5 The goal is to achieve net-zero emissions by 2050. With the ecoDemonstrator, Boeing supports the civil aviation industry's plan to achieve net-zero by 2050.
1:40 Scale Model of the 777-200ER ecoDemonstrator
Pacmin Studios was privileged to create a 1:40 scale model [just over five feet long (≈1.6 meters)] of the 10th-anniversary ecoDemonstrator. The model was featured at the European Parliament's 'A Journey to Sustainable Aviation' exhibition. Also, Boeing displayed the model at the 2022 Farnborough International Airshow.
Learn more about Pacmin Studios custom display models or contact us for a custom model quote.
By Joshua Knopf
Joshua Knopf is a Production Expeditor at Pacmin Studios. In addition to mixing and matching colors for silkscreen printed decals, Josh writes creative content for our newsletters.
References
Subscribe to our newsletter for more Pacmin content.