Conservation: Preserving History and Fostering Legacy of the United Air Lines DC-8
Reading Time:
5
minutes
What is Conservation?
According to ICOM (International Council of Museums), conservation includes "all measures and actions aimed at safeguarding tangible cultural heritage while ensuring its accessibility to present and future generations."1
Additionally, Alisa Eagleston-Cieslewicz, Curator of Conservation at SFO Museum describes conservation as "providing an ethical framework" that guides the decision-making process regarding the treatment of artifacts. Conservators carefully consider the history and legacy of objects in their collections when making essential conservation decisions.
Is Restoration a Mistake?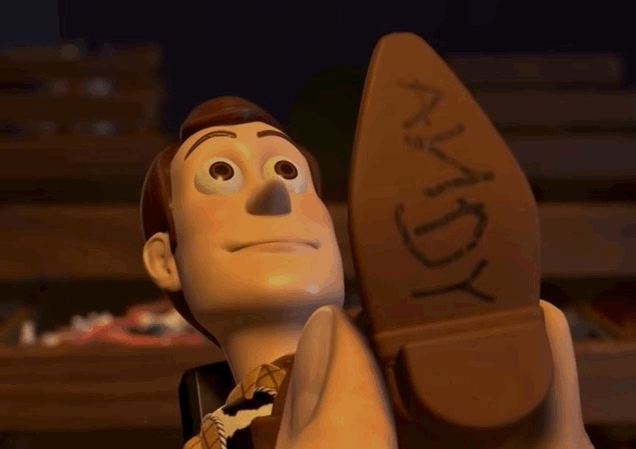 Sometimes restorations can drastically alter the monetary and historical value of antiques. In 2018, a guest to Antique's Roadshow brought an Irish silver table for valuation.2 Furniture expert Lennox Cato asked the guest about the table's condition when he received it. The guest said that he had the furniture restored. Lennox explained that the historical significance of the weathered table would have increased the value of the furniture.
If the guest had conserved the table, it would have been worth around £12,000 (≈$15,700 in 2018); because he restored it, the table was worth £3000 (≈$3,900 in 2018). The value of the antique significantly decreased.
Conservation is imperative for artifacts like those at the September 11 Memorial and Museum.
"When artifacts or objects are salvaged from unforgettable moments in history, the condition of those items is what helps to tell the story."

B.R. Howard Conservation
For most artifacts, a thoughtful mixture of the three constituents of conservation—preventative conservation, remedial conservation, and restoration—allow for a balanced treatment.
Defining Terms: Preventative Conservation, Remedial Conservation, and Restoration
Preventative conservation techniques are conducted to maintain the present qualities of an artifact for as long as possible. These techniques "do not interfere with the materials and structures of items…or modify their appearance." To prevent further deterioration, conservators store artifacts in controlled environments. By adjusting light levels, temperature, humidity, and chemicals/air pollutants, conservators help preserve artifacts.3
Remedial conservation includes "actions directly applied to an item or a group of items aimed at arresting current damaging processes or reinforcing their structure."
"Examples of remedial conservation are disinfestation of textiles, desalination of ceramics, de-acidification of paper, dehydration of wet archaeological materials, stabilization of corroded metals, consolidation of mural paintings, removing weeds from mosaics."

ICOM International Council of Museums – Committe for Conservation
Restoration is performed to make an artifact more closely resemble its earliest state.4 To restore objects accurately, historians and conservators research to determine an artifact's qualities at the time of its creation. Restoration often includes repainting, polishing, and replacing parts.
United Air Lines Douglas DC-8 Conservation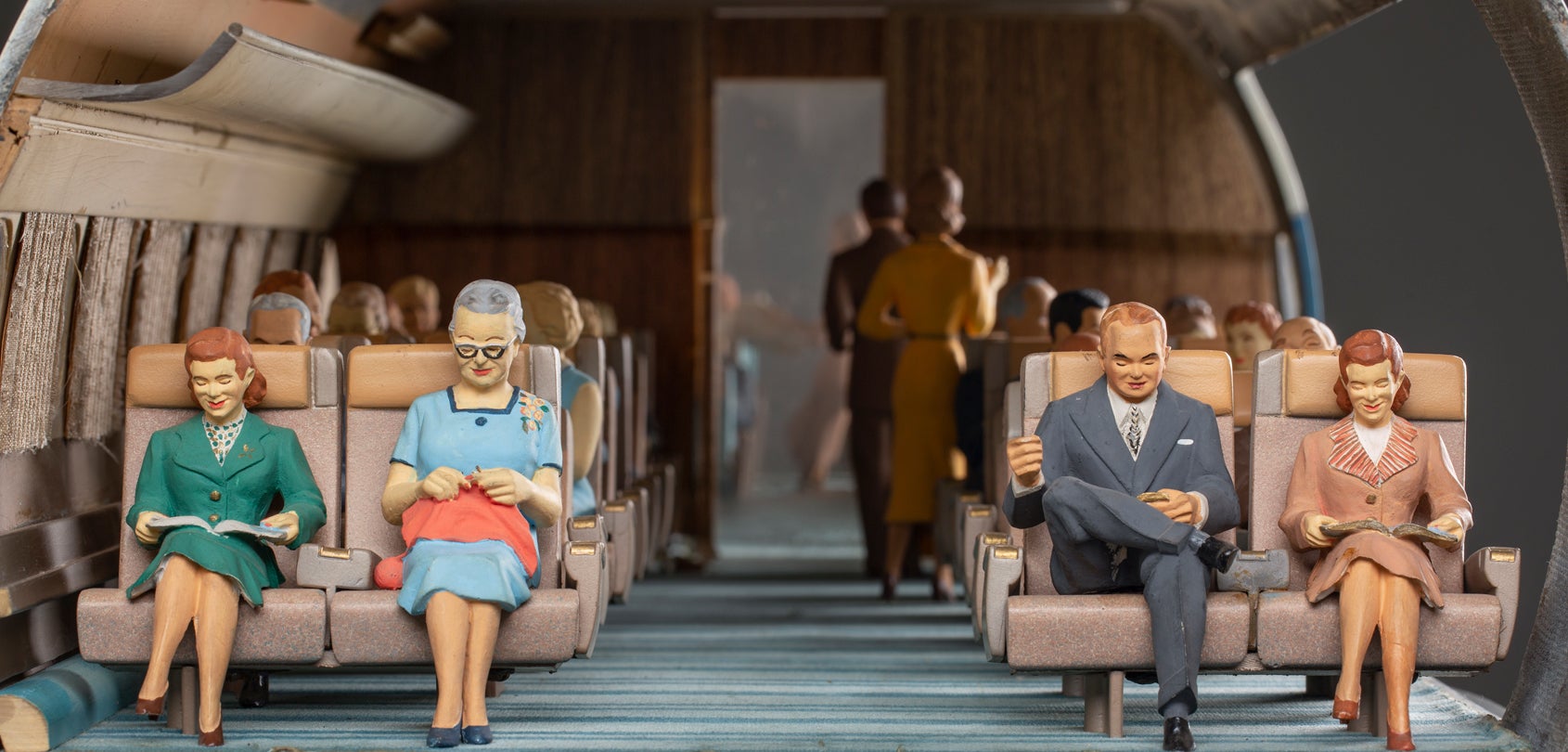 SFO Museum—located on the Departures Level of the International Terminal Main Hall of San Francisco International Airport—is home to a detailed cutaway model of United Air Lines Douglas DC-8. You can learn more about the history of the aircraft by reading Jet Mainliner in Miniature.
The museum received the model as a gift from the Rollison Family in 2018. The model, created by Pacific Miniatures, is the largest cutaway in the museum's collection.
SFO Museum considered the model worthy of exhibition, but they would need to treat it first since it had several condition issues. To prepare the model for exhibition, conservators applied techniques in all three conservation categories.
In keeping with preventative conservation, museum staff sustain a stable climate and limit light exposure. For example, museum staff mitigates light damage by rotating objects on and off display. Conservators also constructed a new storage mount to move the model without handling it directly. The remedial conservation of the DC-8 model included a thorough cleaning.
Regarding the restoration aspects of the conservation of the DC-8, reversibility was key. Every change was "intended to be reversible or re-treatable in order to facilitate the ongoing preservation of the object."5 The team reassembled broken pieces, recast missing parts, and inpainted losses.
Fortunately, conservators had access to the floorplan of the full-sized aircraft, which the cutaway model closely resembled. This informed the position of elements.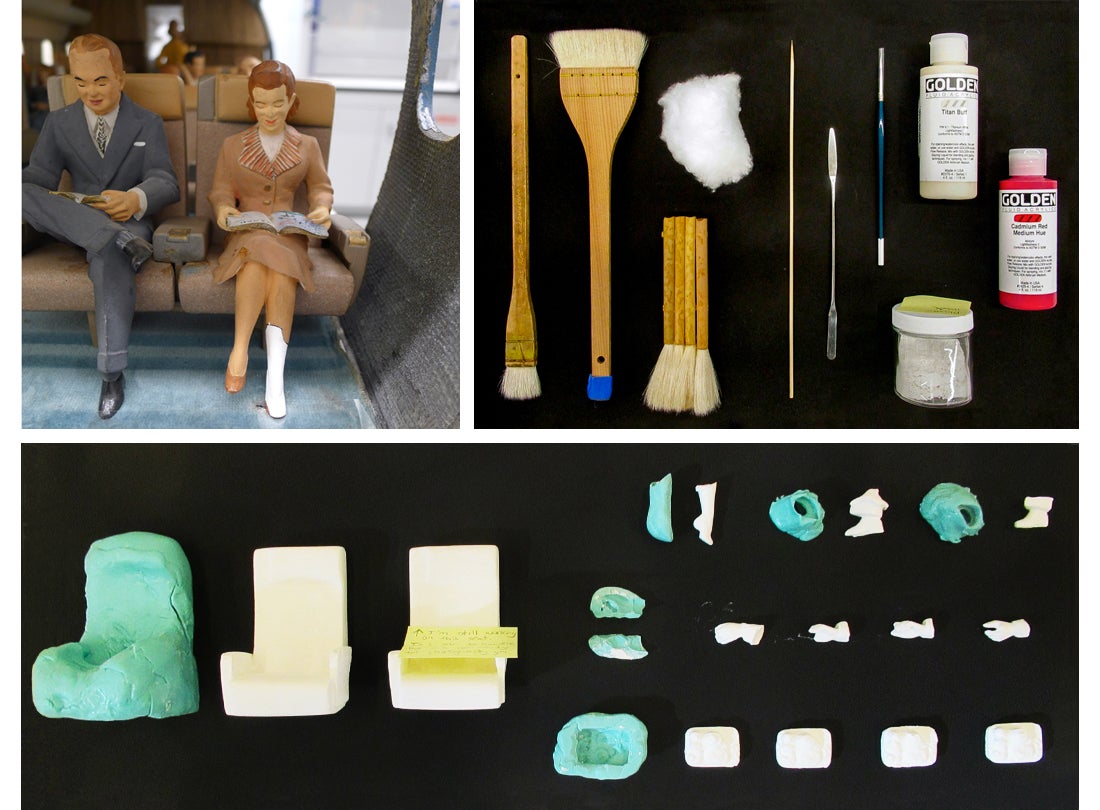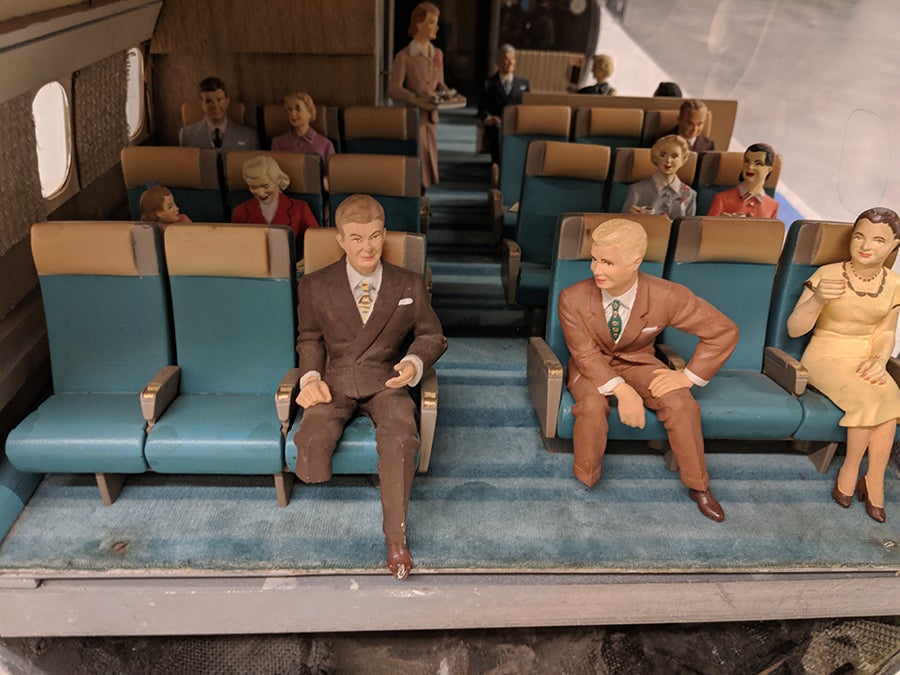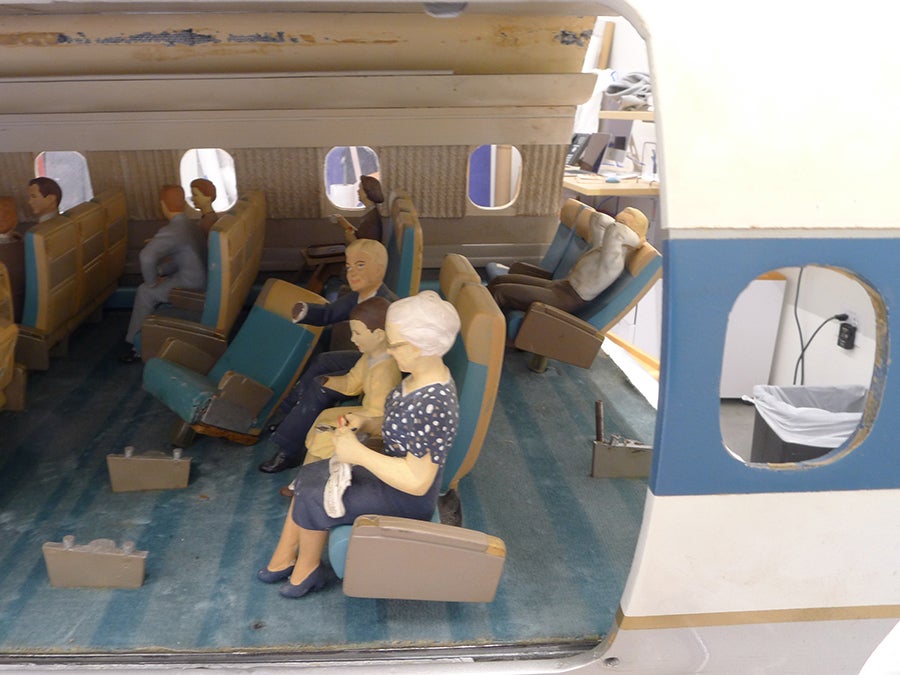 The result of the conservator's efforts is a beautifully conserved exhibition model, now on display in the International Terminal of San Francisco International Airport.
Pacmin Studios would like to thank Alisa Eagleston-Cieslewicz, Curator of Conservation at SFO Museum, for her insights on conservation. Read her article here: Conservator's Corner: Conserving a Cutaway Model: United Air Lines Douglas DC-8.
Learn more about Pacmin Studios custom display models or contact us for a custom model quote.
By Joshua Knopf
Joshua Knopf is a Production Expeditor at Pacmin Studios. In addition to mixing and matching colors for silkscreen printed decals, Josh writes creative content for our newsletters.
References